t
o

day's classes
9:30am - 10:45am
Moderate/Vigorous Kripalu with Jen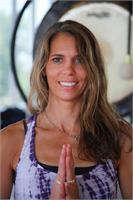 For students with experience and knowledge of basic postures, breath and meditation. This class flows through basic breath and postures and introduces advanced postures and breath techniques. It includes Yoga philosophy and chanting.

4:00pm - 5:15pm
Moderate Vinyasa with Christine
A moderately paced flowing yoga class with instruction and options for more experienced students.

c
o

ming up
Forty-five minutes to melt away the work week and recharge you for the weekend. The guided deep relaxation is open to everyone.
Let Your Yoga Dance is a playful, joyful movement practice that dances through the 7 chakras, the energy centers of the body. We move to the rhythm and beat of the music as it speaks to the soul to free your spirit, get out of your head and into your heart. It is an organized "rumpus." It is healing through joy! The result? A blissful body, joyous heart and a steady, quiet mind. Join us for a joyous, playful, funky-fun adventure using fabulous user-friendly world music in a safe and compassionate environment. It is a total conditioning of the body, heart and soul. Feel invigorated and rejuvenated and blissful at the end of class. Let Your Yoga Dance is for all age and fitness levels. No prior yoga or dance experience is necessary; all levels are welcome because everyone is a dancer! Dress for comfort and ease, bare feet are recommended. Bring a water bottle and bring your inner child to come play and dance.
Join Jen and Connie for 90 minutes of partner poses. Use the weight of each other's body for traction, leverage, and balance as you revisit your favorite poses, partner style. $30/person. Must bring your own partner.
---
---
---
k
e

eping in touch

Join Our Mailing List